1. Capture Data in Real Time
Voice recognition

IoT integration

ELN integration
2. Enable Hands-Free Data Access
Voice-powered queries

Audiovisual SOP guidance

Inventory/LIMS integration
3. Automatize Data Structuring
Guided capture templates

Data labeling

Automatic reports
4. Improve Compliance
Validation and reviewing

Audit trail

ISO certified
Connect Bench Scientists to Your Digital Ecosystem
As a mobile companion connected to your lab informatics ecosystem, LabTwin's voice-powered mobile interface reduces data silos and allows real-time hands-free data access, and capture, at the bench. In the back end, data captured with LabTwin is automatically processed and structured to facilitate downstream data integration.
Use Cases for Voice-Powered Workflows
From the need to capture data while wearing gloves or remain focused on a difficult experiment to the convenience of using a user-friendly mobile companion to seamlessly characterize processes, many use cases benefit from voice-powered workflows:
Sample Preparation
Make the workflow seamless with connected devices, voice-powered templates and step-by-step protocols. See LabTwin in action.
Method Development
Capture any deviations and query databases from the bench, in real time.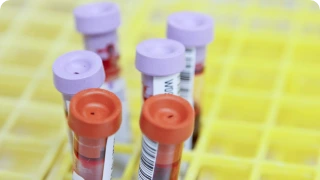 In vivo Study
Focus on animal handling while benefiting from automatic data exchange and a complete audit trail.
Training and Upskilling
Training and Upskilling Accelerate training with audiovisual SOP guidance, voice-powered queries and simplified review processes.
Lab Automation
Facilitate the implementation of new robots and automated equipment width real-time documentation of processes.
GMP and QC Testing
Comply width ALCOA+ principles by implementing hand-free, contemporaneous, accurate data capture, enriched with contextual metadata.
Sterile and Clean Environment
Prevent contamination risk with har free documentation and protocol guidance in all lab environments.
Bring Your Lab Digitalization to the Next Level
Whether you aim to become paperless, want to increase adoption of your ELN, or augment your interconnected ecosystem, LabTwin offers personalized digitalization solutions.
EVALUATE LABTWIN'S IMPACT
Associate Principal Scientist,
Top Pharma