Emerging technologies in life sciences research and development are poised to usher in the lab of the future. Lab digitization will feature prominently in this next generation research laboratory. Among the many advances in lab digitization that are priming for the lab of the future, modern data management systems and "internet of things" (IoT) will be key to successful adoption.
Lab Digitization & Data Management

Developing efficient data management infrastructures is an important aspect of successful lab digitization. There are a multitude of current and emerging tools for digital recording and management of lab data, such as electronic lab notebooks, lab information management systems, lab execution system, document management system, voice-powered digital lab assistants, augmented reality, etc. As more tools emerge, smart integration remains a challenge. Currently, this lack of effective data management has resulted in data silos, which present hurdles in collaborative data sharing, analyses and application.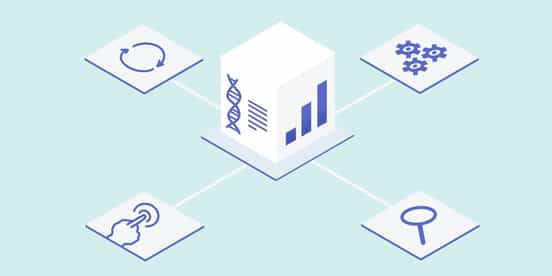 Data systems need to be set up in ways that will enable researchers to record data with high fidelity that is easily accessible, and shareable. Cloud storage is an emerging platform in this space that will be useful in preventing data silos and enable researchers to collaborate from geographically or physically distant locations. This in turn will allow the lab of the future to develop into an efficient global collaboration. In addition, close attention must be paid to data storage, integrity and security, quality control, decision making, and analytics.
A novel approach such as LabTwin's voice-powered digital lab assistant can help by streamlining data flow, organizing and facilitating documentation, and making real-time data-driven decisions, all leading to higher efficiency and reproducibility.
Internet of Things
Internet of things (IoT) is a system of connected devices and machines linked to the internet, with the goal of providing a functionality that can be explored to transition to a smart lab. In the context of life sciences labs, IoT, known as Internet of Laboratory Things (IoLT), connects devices and equipment across the laboratory landscape and is the way towards the lab of the future. The total market for IoLT (healthcare and pharmaceutical/biotechnology) is anticipated to be in the range of $150 billion by 2025.
Integration
Integrating data streams from IoT into the data management ecosystem is critical to seamless integration into the operational components of the lab of the future. This will facilitate optimal utilization of technologies allowing scientists to work more efficiently and spend more time on research.
Conclusion
In spite of the multiple obstacles when implementing lab digitization, effective application of components such as data management systems and IoT will increases the value of the research laboratory. The pharma and biotech world, along with academia is on the brink of a revolution leading to the lab of the future.