Today, smart appliances are increasingly becoming powerful tools in our daily lives. We can lock our front doors remotely, order groceries from our refrigerators, or control our household appliances from halfway across the town. The most noticeable aspect of these advances is how seamlessly the technology is integrated into our daily lives. This is in stark contrast to the picture seen in the life sciences research laboratories today.
Hurdles in lab digitization affecting transition to lab of the future
Interlinking of the physical and digital worlds has been made possible by powerful user-centered design approaches in innovation, where the focus is primarily on the user and their needs. In contrast, an area that has stayed largely immune to digitization is the life sciences laboratory. Though scientists and researchers see newer technologies enter the research space, we have not seen any real lab digitization as life science products are being designed in silos without considering the needs of the user. This results in a disconnect that prevents integration with e.g. ELN, leading to low adoption by the end user and a stalled transition to the lab of the future.
Seamless integration of lab digitization - out-of-box thinking with ELN, LIMS and MES software
Lab digitization (or lab digitalization) can yield more success if it incorporates user needs into its design and development. Empathic innovation in lab digitization can usher in the smart lab of the future. Electronic Lab Notebooks (ELN), Laboratory Information Management Systems (LIMS) and Manufacturing Execution System (MES) software are examples of digitalization, both of which have remained woefully disconnected necessitating manual and hands-on approaches. Disrupting this space with an out-of-the-box approach is needed to revolutionize the field. One such solution to improve on the ELN is through development of a voice-powered digital lab assistant.
As an early and leading developer in this field, LabTwin is a pioneer that is making information accessible, data reproducible, and research more efficient by their unique approach to lab digitization. Their voice-powered digital lab assistant, the first of its kind, will not only improve efficiency and reduce errors but will also do so at lower economic costs to the researcher. By enabling lab digitization, LabTwin is poised to be a major player in developing the smart lab of the future.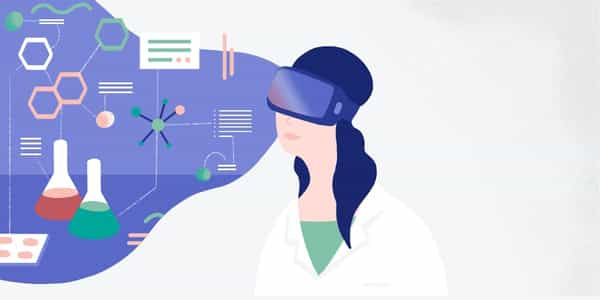 An additional novel aspect of lab digitization is augmented reality (AR). This can be a valuable arsenal for the future lab of the future, helping in a wide range of tasks in the lab, including data capture, collaboration, and education. It has the potential to affect digital transformation.Integration of different technologies such as AR with ELN, LIMS or MES software may be an important step in transitioning towards a true smart lab of the future.
Conclusions
Though there remain obstacles in bringing lab digitization to the research setting, it is a critical component in the development of the lab of the future. It is also the need of the hour to integrate lab digitization with the rapidly evolving area of lab automation. This would transform the face of research, and benefit all stakeholders by exponentially moving research forward.